Affordable Housing Terms & Strategies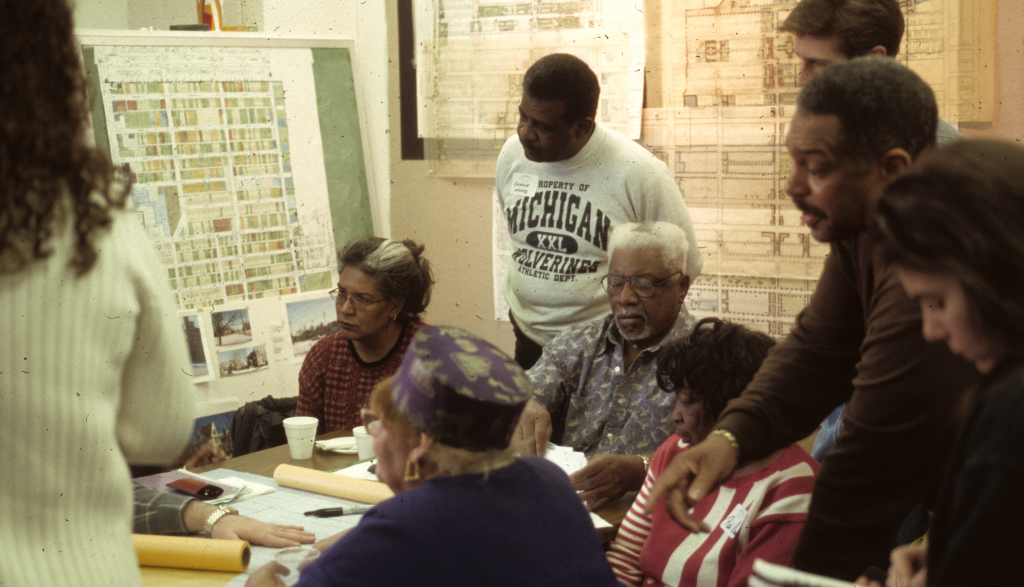 The production of affordable housing is an interrelated architectural, urban, and economic design challenge. It includes issues of design, sustainability, social equity, planning, finance, ownership and equity options, building codes and zoning. Design is the means by which we can most effectively identify, address and solve the challenges of housing. Design issues include creating compact but spatially rich units that can change over time to accommodate changing or new family make-ups. It can also create innovative uses of materials, cost-effective construction methods and the efficacy of shared or private outdoor spaces.
Even though design describes the process of synthesizing the complex issues germane to housing, we can identify specific areas of importance. Sustainability is the means to create homes that have lower construction, maintenance and energy costs. This includes, using local, recycled and durable materials and incorporating passive and active heating, cooling and water use systems. "Green lifestyles" depend on "green communities, " however, and therefore accessible and reliable public transportation and adequate density to serve it. Walkable communities are also affordable communities, and often promote local businesses and services. And we should not forget that sustainability also includes preserving and supporting a diversity of cultural histories and character, and the provision of community services.
Comprehensive, community-based planning can effectively structure and support the communities in which we live. Any comprehensive or small area plan depends on substantial and sustained community participation to be successful. All strategies such as mixed-use development, infill and scattered-site infill housing need to make the preservation and revitalization of the neighborhoods in which they are placed a priority. A full range of home ownership and equity options should be considered when designing affordable housing for a specific place. Depending on the outcomes of community participation and project research, models such as co-housing, limited equity coops, live-work units, rent-to-own units, accessory units, carriage apartments and condominiums, and single-room occupancy and other models of shared and supported housing, may be considered. We should not minimize the effect that finance and building regulations can have on the affordability of housing. Savvy city design and community development agencies recognize the effectiveness of the variety of local and national subsidy and development support programs. They have also learned that policy, building codes and zoning ordinances can either hinder or aid in the development of affordable housing.
At the core of our efforts is the recognition that a free and open society requires fairness and accessibility when it comes to housing. We have learned that housing designed for only the poor can lead to isolated economic ghettos. Mixed-income housing development can mitigate the economic and social divisions that compromise our egalitarian culture. The provisions of a diversity of housing types as well as social and educational services can even the playing field for those who have less. In the end it makes economic sense – stable safe housing and social safety nets cost less in the long run. Fundamentally, however, it is simply the right thing to do.
See this presentation for a summary of strategies for creating and preserving affordable housing.
AH+SC_AFFORDABLE HOUSING STRATEGIES_comp
The following is an outline of the various aspects of affordable housing including pertinent terms and short definitions.
Design
Beauty and meaning
Create beautiful and generous places to live, work and play that embody the inherent human need for beauty, meaning, safety, connection and communication.
 Placemaking
Incorporate enduring concepts and practices of placemaking that respond to their cultural, historical and environmental contexts.
Recognize and embody local history and culture.
 Compact plans
Minimize circulation, skillfully size and proportion rooms, and utilize open plans where appropriate.
 Flexible plans to accommodate changing families
Provide adaptable rooms/spaces for changing needs and uses, "swing rooms" that are available to adjacent units, the ability to add rooms as a family grows, or create separate living units for related adults or renters.
Exterior private spaces (such as porches)
Include interior/exterior private/public spaces and other transitions between living units and shared spaces as part of the "living spaces" of the home.
Modular, "kit-of-parts" design and "chunking" of building components
Utilize repetitive construction components to decrease labor costs and construction waste.
Accommodate standard dimensional lumber, manufactured beams, sheathing and flooring panels, casework, doors and windows.
Consider manufactured housing options and methods.
Off-the-shelf materials
Benefit from the cost savings of materials and building components manufactured at economies of scale.
User Participation
Include meaningful participation and decision-making role for actual residents (or representatives), and/or incorporation of relevant research.
Sustainability
Low energy building performance
Incorporate LEED and Energy Star checklists, including: High R-value thermal insulation, high E windows, efficient HVAC, HWH, and equipment, passive solar, and geo-thermal options.
Sustainable and cost-effective materials
Use locally manufactured materials (that do not need to be shipped more than 300 miles).
Use recycled houses or materials.
Use ecologically compatible materials.
Use durable and easy/inexpensive to repair equipment, fixtures, hardware, and finishes.
Employ local contractors and craftsmen
Reduce commuting costs and support local economies by employing local builders.
Accessibility to public transportation
Locate housing close to multi-modal transit options such as bus, rail, bike and pedestrian paths.
Mixed-use development
Locates housing close to retail, day care, jobs and social services to minimize the need for automobiles or excessive automobile trips.
Cultural and community sustainability
Recognizes, documents and supports local building and community traditions.
Includes historic preservation and renovation.
Incorporate, where appropriate, job training and other local employment opportunities.
Social Equity
Mixed-income development
Housing that includes a mix of low income, moderate income, and market rate units. Mixed-income housing can be an effective means to achieve economic diversity and satisfy inclusionary zoning requirements.
The market rate housing, residences that are either rented or sold at prices set by the prevailing market, can provide additional subsidies for the low and moderate-income units.
Social services
Provide childcare, job training and other services as part of the housing or community development.
Health and the environment
Communities that facilitate healthy lifestyles
Universal design and supportive units
Housing and communities that provide for the needs of the physically and/or mentally impaired.
Universal design and supportive units
Housing and communities that provide for the needs of the physically and/or mentally impaired.
Multi-generational housing and age-in-place unit distribution
Provide a range of housing types that allows families and individuals to trade up without moving out, or downsize within the community as their families get smaller.
Farm worker housing
Housing that responds to the special needs of seasonal workers.
Transitional housing
Housing that supports individuals and families to move from homelessness to stable housing.
Planning
Preserve existing neighborhoods
New and renovated housing should respect, respond to, and preserve the essential characteristics and historical context of the community.
Mixed-use development
The incorporation of a variety of uses, such as residential, office and commercial, in the same development or small area plan.
New district development
The large-scale planning and development of identifiable districts and urban villages.
Planned unit development
A development that provides flexibility in lot sizes, densities, street layout and other elements, and may include mixed-uses.
Courtyard housing
Housing planned around common courtyards that serve as a community space, children's play area and common entrance to the housing units.
Infill housing
Housing that appropriates vacant lots.
Scattered-site development
A development strategy that includes a number of discontinuous lots in the same geographic area.
Community-based planning and advocacy
The incorporation of substantial and sustained community participation.
Comprehensive plans
Large-scale urban development plans that include affordable housing
Transportation
Walkable communities, Transit Oriented Development and Urban villages
Home Ownership and Equity Options
 Co-housing
Modestly sized, attached or detached residences that are grouped around commonly held communal spaces and buildings. Typically co-housing is organized so that residents share maintenance duties and common activities, and enjoy the advantages of a private home with the benefits of shared resources.
Rental, accessory units and carriage apartments
A separate living unit, as part of a duplex or located above a garage or a detached building, that can be used as a rental apartment, accommodation for a family member, or home office. Can be an effective means to generate income to offset mortgage costs.
Condominium
A home ownership model where the living units are privately owned and the building's envelope and grounds commonly held.
 Mutual housing association or cooperative housing
An ownership arrangement where residents own a limited equity share in a corporation that owns the multifamily building(s) and grounds. It is an effective way for families and individuals with limited incomes and/or savings to become homeowners. Ownership models of this type can make home equity more accessible, capture subsidies unavailable to homeowners, create community participation, and overcome resistance to rental housing.
Live-work Units
Work spaces included in the housing units that can accommodate "cottage industries."
Rental and rent-to-own units
Affordable rental units are an essential component of any housing strategy.
Rent-to-own programs allow families and individuals who cannot meet the requirements for a mortgage to convert their lease to a purchase agreement in the future.
 Sweat equity
Homeowners reduce the purchase price by participating in the construction of their home.
 Single room occupancy units and other models of shared housing
Housing with minimal dwelling units (typically a bedroom, bath and kitchenette) and generous common spaces.
Often serves as transitional housing and typically includes social services and job training.
 Public housing
Housing that is owned by the Federal Government and administered by local municipalities where rent is typically established as a percentage of family income.
Temporary housing structures
Manufactured homes or other structures utilized as temporary accessory living units for family members.
Finance
Historic Structure Rehabilitation
Housing that renovates existing buildings that are on the Federal Historic Register and thus are able to apply for Federal Tax credits and benefit from the more flexible historic building codes.
Subsidized rental units and Housing Vouchers
Rental assistance through programs such as the Federal Section 8 Housing Voucher program.
Land
Land consolidation and banking can aid in achieving the economies of scale often required for affordable housing development.
Development subsidies
The federal Housing and Urban Development (HUD) Community Block Grant program is an example of a federal program that can be used for land acquisition and other subsidies for the development of affordable housing.
Mixed-income incentives
Mixed-income developments where the market rate units subsidize the affordable housing.
Policy, Building Codes and Zoning
 Inclusionary zoning
Requires a percentage of affordable housing units in all new development projects through mandatory or incentive-driven (density bonuses, zoning variances, etc) means.
Density
Allow for greater density to support shared services, community-based businesses and employment, and public transportation.
 Mixed-use
Allow for mixed-use development to facilitate community-based business and employment and transportation options.
 Housing Policy
Allow for live-work, co-housing, multi-family units, manufactured housing and other housing alternatives.